The Simplest Way to Secure Up Your Sofa With Sofa Cover
Improve your living space and give your home an upgrade with our family-friendly and easy-to-clean design.
Our Decorative Stretchable Elastic Sofa Covers Gives You:
An awesome and brand-new looking sofa without buying a new one.
You save the cost and time of having your couch re-upholstered somewhere (usually in the thousands!), and also not adding more waste to the landfill.
Get several more years out of your sofa or until it actually breaks down before having to buy a new one.
Product highlight:
Sofa covers material & design: Polyester fabric. All-round without corners wrapped, not easy to wrinkle; elastic band and strap fastening closure at the bottom, double reinforcement, not easy to displace.
Fits most furniture: Our sofa covers are one-size-fits-most: 1-seater, 2-seater, 3-seater, 4-seater.
Stay in place: This sofa cover is applicable to any sofa in which there is a gap between the seats with a backrest and armrest. There are cloth strips which can be pushed down and under the sofa  as far as you can – to hold the cover in place.
Protect: This basic slipcover shields and protects your furniture from preventing it from getting ruined. It's particularly great for homes with pets or anyone seeking an economical solution for furniture protection
Money-Back Guarantee: If a buyer is not satisfied with a product or service, a refund will be made.
High-quality fabric: Made of high-quality fabric including 90% Polyester Jacquard Fabric. Solid color made of high-quality polar fleece fabric.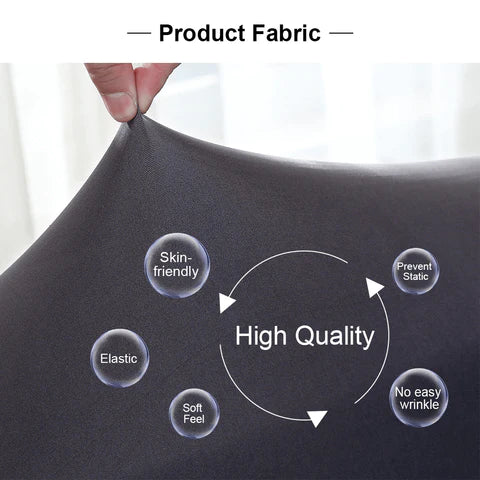 How to choose size :
The sofa images below are just an example, it can work also with the other sofa type.
Please make sure you choose the right size before ordering
How to put it on